OUR PHILOSOPHY
Introducing a dog into a human household is potentially a clash of cultures. Dog behaviours that humans want to label as "bad" are viewed as normal dog behaviours in the dog's culture. It is the responsibility of the humans to refine the dog's behaviours by eliminating the unwanted behaviours without punishing the dog.
We describe our approach as "Balanced" as we promote two major engagements with the dog:
To create the behaviours we want, we set up the dog to give us those behaviours and positively reinforce the behaviour so that the dog will naturally want to repeat those behaviours.
To discourage the behaviours we don't want, we take away something that has meaning to the dog at that time, e.g. if the dog is jumping on us we take away our attention and movement until the dog calms or sits and we reinforce that alternate behaviour.
We never ever administer an aversive to the dog. We do not shout, pull against the dog on a lead or intimidate a dog in any way.
It is the humans' responsibility to clearly define, reinforce and maintain the desired behaviours of a dog through consistent interaction and regular training.
It is crucial that before a puppy is 18 weeks of age he/she has learned that it is not acceptable to break the skin of humans or other animals. Before 18 weeks of age a puppy needs to have been systematically and positively introduced to a wide variety of methods of handling, new sights, sounds and sensations. This will prepare the dog for a confident and secure journey into adulthood. We have woven these facts into our puppy programs. This is what makes our puppy classes so unique and successful.

TEAM PROFILES
Julie Tolliday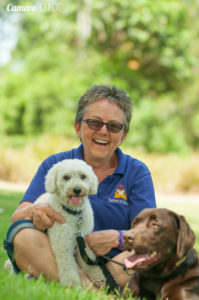 Background Experience: Diploma of Teaching, Graduate Diploma of Special Education (Behavioural Sciences), former owner of dog training franchise, committed attendee of APDT conferences and other dog-related seminars, following such world authorities as Patricia McConnell, Ian Dunbar, Suzanne Clothier, Turid Rugaas, Sophia Yin, Emily Larlham, Nicole Wilde, Steve White, to name a few.
Founded Barkers in Balance: 2009
Current dogs: Charlie, Miniature Groodle, born 2013. Lakota, Labrador, born 2014.
Favourite dog quote: There is a light that shines in our dogs' eyes. Our work is to keep that light shining.
Best part about leading the Barkers in Balance team?
Enabling others with a passion to be able to work with dogs and their owners to build relationships of understanding, reliability and trust. Seeing the team members grow in confidence and watching them take delight in the changes they help to make.
Most fulfilling course outcome you've seen: Having new students enrol saying not one but several people had told them to enrol their dog in our courses.
Reflections on your leadership of the Barkers in Balance team: I am continually overwhelmed by the commitment of team members, not only working to make classes successful but carrying the Barkers in Balance name proudly and wanting genuinely to provide a service of excellence. I am grateful on a daily basis to the whole team for this.

Melody Martyn
Background Experience: Highly organised admin skills, used to keep Julie in line and promote the work of Barkers in Balance; certificate of attainment in the NDTF Cert III Dog Behaviour and Training Course.
First contacted Barkers in Balance: 2011
Current dogs: A rescue dog called Maddie. I adopted her when she was 7 months old. She is a Ridgeback cross and she was 7 in July.
Favourite dog quote:  "My dog does what I tell him – at home."
Why did you want to be part of the Barkers in Balance team?
After I did the Adolescent Class Level 1 I loved it so I asked Julie if I could help out with classes. I started to do this in early 2012 and have continued ever since.
Most fulfilling course outcome you've seen: Every class is fulfilling for me. I love watching the transformation from the first night the dogs and owners arrive and how overwhelming it can be for them to the last lesson where they have gained a connection with their dog and seeing the confidence and satisfaction in what they have achieved.
Reflections on your membership of the Barkers in Balance team: I just love it. Doesn't matter how bad a day you've had when you see the puppies and owners it always puts a smile on your face and makes you feel good inside and to watch Julie with dogs is amazing.