Why a class for older dogs?
Dogs pass through developmental stages just like children. People who have taken their puppies to puppy school often lament that the training seems to lose its intensity when the dog reaches around 6 months of age.
Often people will have missed out on puppy school or may rescue a young dog with an unknown history.
To undertake this level of training with this older member of the family can help to build a bond between the dog and the family. It also gives us the opportunity to observe and shape any behaviours that need tweaking.
In essence, this is the time in a dog's life when he/she needs to learn that it's time to start behaving like a "grown up dog".
Why do I need Online Dog Training?
Dog training classes in the open are not an option at all during this time of social isolation.
People are now confined to home and their dogs are needing enrichment and guidance.
Now that people have the time, they can do that training they've been meaning to get around to.
We are seeing MANY dogs out and about that we've never seen before. We see their humans struggling to walk them as walking the dog has not been a regular occurrence in their busy normal lives.
People are taking on rescue dogs for company and because they have the time. Many of these dogs have dog behaviour problems and have never been walked before.
How will Online Dog Training work?
The class will run live on Zoom.
The trainer will be there with you in real time.
The session will be recorded and sent to you in MP4 format.
Skills will be demonstrated and your individual practise monitored.
You will be able to ask individual questions of your trainer.
An email full of resources will be sent to you after each session.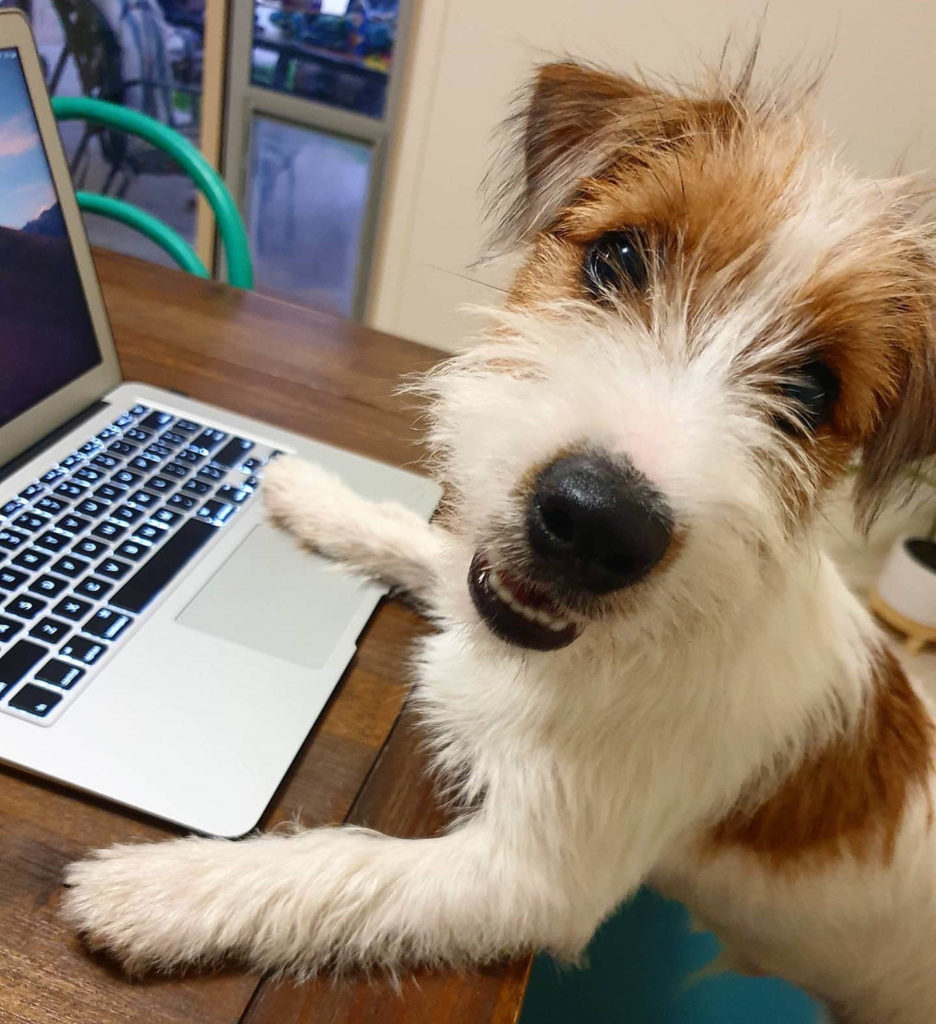 What are people saying about Online Dog Training?
Thank you Julie, online training is AH-MAH-ZING!!!
"We attended puppy school but our puppy is a handful, over excited and I lack confidence as I am a first time puppy owner. I wasn't sure how I was going to handle the phone and the puppy and the treats, but seriously, it was SO good! I actually felt comfortable in our own space and the habits at home were evident and could be addressed on the spot, with training tips given to deal with those behaviours.
Jarrah reacted so well to the online training – and best of all, I have a copy of the lesson to save and keep forever!!! I gained so much from it and I am thankful there is a copy, because I could never remember all that I was taught.
Thank you Julie. puppy school was so good but the online training is also simply fantastic." (Angela J 02.04.2020)
Can't Wait for Next Week.
"Just had an online zoom session with Julie and the Barkers in Balance team. It worked really well! Definitely worth persevering in this difficult time. Thanks guys, we can't wait for next week!" (Alex C. 29.03.2020)
Very Worthwhile.
"We're on an adventure, doing puppy school on zoom! We were thinking it might be a bit difficult but we're learning heaps and it's very worthwhile. Thanks heaps Julie." (Gill F. 01.04.2020)
Progress in Just an Hour!
"I was so concerned about not being able to get my 17.5 week old frenchie into puppy school due to COVID-19. Fortunately Barkers In Balance have offered online classes via Zoom. My partner and I are so pleased with Julie and how she ran our first class today. Bosco responded well and we definitely made some progress with him in just an hour! The classes are small so Julie is attentive to every puppy. This is a great alternative for the situation we are all in. Can't wait until the next class!" (Karen B 28.03.2020)
What can we learn in Online Dog Training?
We offer four topics, run over four weeks.

Building a positive relationship with your dog. Dealing with distractions.
Loose leash walking strategies.
Recalls, Waits and Stays.
Strategies to reduce jumping up.
---
Enrolling in Online Dog Training
You can choose any number of topics, depending on your needs. Your investment will be:
Your choice of ONE topic, $55
Your choice of TWO topics, $95
Your choice of THREE topics, $130
Your choice of FOUR topics, $155
Online Level 1 Classes
Here are our online courses during the COVID-19 crisis. The full course is an hour each week for six weeks.  Classes begin Sunday, October 10 at 3:30pm.  Please select the button based on the numbers of topics you would like to attend.
Upcoming online dates:
Sunday, October 10 at 3:30pm
PLEASE NOTE that for this class you will need to either:
---
ONE Topic – $55 BOOK COURSE NOW
---
TWO Topics – $95 BOOK COURSE NOW
---
THREE Topics – $130 BOOK COURSE NOW
---
FOUR Topics – $155 BOOK COURSE NOW
---