OUR PHILOSOPHY
Introducing a dog into a human household is potentially a clash of cultures. Dog behaviours that humans want to label as "bad" are viewed as normal dog behaviours in the dog's culture. It is the responsibility of the humans to refine the dog's behaviours by eliminating the unwanted behaviours without punishing the dog.
We describe our approach as "Balanced" as we promote two major engagements with the dog:
To create the behaviours we want, we set up the dog to give us those behaviours and positively reinforce the behaviour so that the dog will naturally want to repeat those behaviours.
To discourage the behaviours we don't want, we take away something that has meaning to the dog at that time, e.g. if the dog is jumping on us we take away our attention and movement until the dog calms or sits and we reinforce that alternate behaviour.
We never ever administer an aversive to the dog. We do not shout, pull against the dog on a lead or intimidate a dog in any way.
It is the humans' responsibility to clearly define, reinforce and maintain the desired behaviours of a dog through consistent interaction and regular training.
It is crucial that before a puppy is 18 weeks of age he/she has learned that it is not acceptable to break the skin of humans or other animals. Before 18 weeks of age a puppy needs to have been systematically and positively introduced to a wide variety of methods of handling, new sights, sounds and sensations. This will prepare the dog for a confident and secure journey into adulthood. We have woven these facts into our puppy programs. This is what makes our puppy classes so unique and successful.

TEAM PROFILES
Julie Tolliday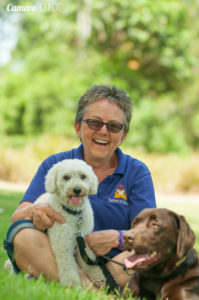 Background Experience: Diploma of Teaching, Graduate Diploma of Special Education (Behavioural Sciences), former owner of dog training franchise, committed attendee of APDT conferences and other dog-related seminars, following such world authorities as Patricia McConnell, Ian Dunbar, Suzanne Clothier, Turid Rugaas, Sophia Yin, Emily Larlham, Nicole Wilde, Steve White, to name a few.
Founded Barkers in Balance: 2009
Current dogs: Charlie, Miniature Groodle, born 2013. Lakota, Labrador, born 2014.
Favourite dog quote: There is a light that shines in our dogs' eyes. Our work is to keep that light shining.
Best part about leading the Barkers in Balance team?
Enabling others with a passion to be able to work with dogs and their owners to build relationships of understanding, reliability and trust. Seeing the team members grow in confidence and watching them take delight in the changes they help to make.
Most fulfilling course outcome you've seen: Having new students enrol saying not one but several people had told them to enrol their dog in our courses.
Reflections on your leadership of the Barkers in Balance team: I am continually overwhelmed by the commitment of team members, not only working to make classes successful but carrying the Barkers in Balance name proudly and wanting genuinely to provide a service of excellence. I am grateful on a daily basis to the whole team for this.

Susan Clark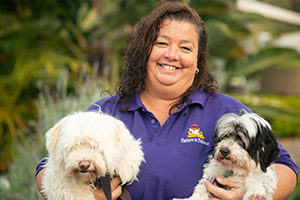 Current Role with Barkers in Balance:
Admin Extraordinaire; Susan is the friendly voice on the end of the "Dog Phone"
Puppy School Trainer
Background Experience: All informal experience coming from owning dogs and always having an interest in animal training.  I've read a lot of books and watched lots of dog training videos. I've worked as a dog groomer and I've also previously worked in veterinary clinics as a receptionist so a lot of my knowledge about health and behaviour came from there.
For my administration role I've completed a Cert IV in business administration and worked for over 30 years in office administration.
First contacted Barkers in Balance: in 2017, after many people had recommended I take my puppy to a Barkers in Balance puppy school.
Current dogs: Panda 2016 and Winston 2019; both Havanese
Favourite dog quote: "A dog is the only thing on earth that loves you more than he loves himself."
Why did you want to be part of the Barkers in Balance team?
I've always had an interest in dogs and dog training and believe the positive training methods that Barkers use enhance human/dog relationships.  I believe that fostering that relationship and intensifying the bond between humans and their dogs will ultimately lead to less dogs ending up in the pound.
Most fulfilling course outcome you've seen: My heart sings every time I see a puppy achieve a goal.
Reflections on your participation in the Barkers in Balance team: Seeing the bond between human and dog grow and intensify makes me so proud to be part of this team.  We're all here to assist humans develop a fulfilling, long lasting and positive relationship with their dogs.
I'm so grateful to be part of this team.  Julie has been so encouraging and her knowledge and skills blow me away.  Hopefully one day I too will have the same depth of understanding of a dog's behaviour.
Suzanne Madden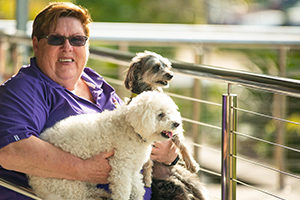 Background Experience: Qualifications in Adult Education, along with a Cert IV in Companion Animal Services (TAFE NSW), Pet First Aid (Pets Australia), Tellington Touch Massage for Dogs and Cats, participation in "Chaos to Calm" workshops, volunteer obedience instructor at Newcastle All Breeds Training Club and volunteer with the Delta Pets as Therapy program. Also a member of APDT (Association of Pet Dog Trainers).
In 2020 Suzanne began studying with Steve and Vicki Austin, enrolling in their Dog Training Certificate through Austin's Dog Training Education. This will be another fabulous bow to her already impressive set of qualifications!
First contacted Barkers in Balance: 2013. My youngest dog Roxy, a rescue, was anxious and displaying some unwanted behaviours. I wanted to address the unwanted behaviours, but more importantly help her with her anxiety so she could enjoy life! Roxy and I then progressed to Level 1 and Level 2 Adolescent Training.
Current dogs: Zac, a Poodle x Maltese (Moodle), born 2007. Roxy, a Poodle x Silky Terrier (Silkypoo) born 2011.
Favourite dog quote: "In a perfect world every home would have a dog and every dog would have a home."
Why did you want to be part of the Barkers in Balance team?
Having seen Barkers in Balance from the client perspective I knew their dog training philosophy aligned with mine. They have small groups which allow the trainers to support and assist everyone in the group – not to mention, the classes are fun!
Most fulfilling course outcome you've seen: Quite often on the first day the dog needs to be out of sight of other dogs. The owners are often distraught (and sometimes embarrassed) and worry that this situation will never get better. However, over the course of a few weeks, with the skills we teach them and owners practising these skills at home, their dog is able to work closer to other dogs. The owners and the dogs are happier – their relationship has been strengthened!
Reflections on your participation in the Barkers in Balance team: I enjoy working with like-minded people who love dogs as much as I do. In particular I enjoy sharing and building knowledge and experience in a supportive environment, meeting lots of people and their dogs and seeing them build great relationships with their dogs (and I get to pat puppies!).
Mel Gransden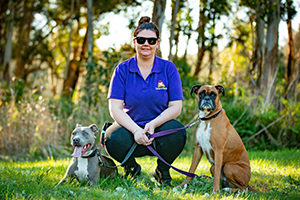 Background Experience: Completed dog obedience certification through open college. I have also contributed some time and training to a local dog rescue group.
First contacted Barkers in Balance: in 2015, enrolling in puppy school with my Boxer, Marley.
Current dogs: Marley, Boxer, 2015; Narla, Amstaff, 2018.
Favourite dog quote: "A true friend leaves paw prints on your heart."
Why did you want to be part of the Barkers in Balance team? 
I absolutely love working with puppies and older dogs and watching them learn & grow. Also, listening to the enthusiasm Julie has when teaching a class is quite motivating.
Most fulfilling course outcome you've seen: Watching puppies graduate; seeing how far they have come along in the short 4 weeks is very satisfying.
Reflections on your participation in the Barkers in Balance team: Being able to work with a team of trainers that have a great depth of knowledge and working with a great group of people. Being able to get my puppy fix for the week is a huge plus too!
Tara Walsh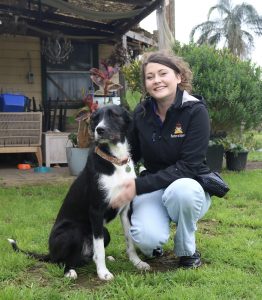 Background Experience: Before I started at Barkers in Balance I worked as a senior animal attendant at the RSPCA for 4.5 years. I've also worked as a veterinary nurse. I have achieved a few certificates in animal care and behaviour, most recently enrolling in Steve and Vicki Austin's puppy instructor course, which I should complete by early 2023. I'm also studying a Bachelor of Animal and Veterinary bioscience at the University of Sydney.
Current dogs: Only a few weeks into working at the RSPCA, I adopted a wolfhound mix named Charlie. Often you'll see me with foster dogs and puppies too!
Favourite dog quote: "Dogs do speak, but only to those who have learnt how to listen"
Why did you want to be part of the Barkers in Balance team? At the RSPCA, I saw countless animals surrendered due to behaviour problems that could have been prevented or modified. At the shelter, we have limited resources to effectively rehabilitate those dogs, and this led me to be passionate about pursuing dog behaviour.  Imagine if I could help these dogs before they even set foot in a shelter!  I had heard nothing but good things about Barkers in Balance, and decided to reach out and see if they were looking for any new trainers. To my amazement, they offered me a traineeship! It has been one of the most rewarding and fulfilling experiences of my life so far!
Most fulfilling course outcome you've seen: WIt's so hard to pick just one! I've seen dog reactive dogs be able to participate in group classes, which is one of the most incredible things to see. I've always been a big believer in reward based training, so to see it's impact right before my eyes has been so affirming. However, my favourite part is puppy school, as we are setting up dogs and their owners for a successful life together. I adopted my dog outside of the critical socialisation window, and as such, she is incredibly nervous of new people and things. To be able to help these puppies feel confident in our strange human world is something I'm incredibly passionate about.

Reflections on your participation in the Barkers in Balance team: The team at Barkers in Balance have welcomed me with open arms, and I couldn't be more grateful for the level of detail in the training I have received. To be part of a team that shares the same values and philosophies as me has been a dream come true!
[/one_third_last]
Bryanna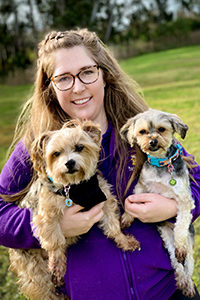 Background Experience: A vet nurse of many years experience and a dog enthusiast.
First contacted Barkers in Balance: in 2016 to work on my bond with my rescue dog Ashie and build trust in each other. She was my first ever dog and I needed to learn how to speak dog.
Current dogs: Ashie – Silky Terrier 2008; Darby – Silky Terrier x 2018.
Favourite dog quote: "A naughty dog is a bored dog" – it's the mantra I tell all my students.
Why did you want to be part of the Barkers in Balance team? 
I love the bond I developed with my dogs through training and I wanted to share that with others. I've also seen a lot of dogs re-homed for fixable issues and I love the idea that proper training and education can keep dogs in a family.
It is also my puppy fix for the week.
Most fulfilling course outcome you've seen: When owners have that "Ah-ha!" moment and realise that with clear direction, any dog is trainable.
Reflections on your participation in the Barkers in Balance team: I love having a group of people who I can purely speak dog with. We all have a shared goal and common interests. As a group we can share ideas and tricks with each other and can learn from one another.
Pam Doughty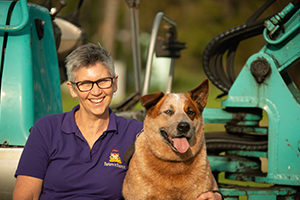 Background Experience: I'm a mum of 3 wonderful children, I was a volunteer life saver for 20+ years and am a Registered Nurse. I am also a great lover of dogs and am passionate about helping others with their dogs as I have been helped with mine.
First contacted Barkers in Balance: I needed guidance with my first Growly dog, Daisy. Julie gave me so many tools to help me give Daisy a fulfilling life – not just having her secluded at home. It was inspiring.
Current dogs: Jax – Big Red Queensland Cattle Dog. 2011
Favourite dog quote: I have two favourites and I cannot choose between the two of them…
"The world would be a nicer place if everyone had the ability to love as unconditionally as a dog."
"The love of a dog is a pure thing. He gives you a trust which is total. You must not betray it."
Why did you want to be part of the Barkers in Balance team?
After experiencing the amazing difference Julie made with Daisy, in such a nurturing and gentle way, I just wanted to be able to spread this knowledge to everyone that we could reach.
Most fulfilling course outcome you've seen: How do I choose just one? I have seen Growly dogs learn to become confident with their owners and I have seen anxious owners become confident with their dogs. So I guess watching the relationships between owner and dog grow. Responsible ownership and a confident and socialised dog are definitely outcomes I love to see in every case, if possible.
Reflections on your participation in the Barkers in Balance team: Lots of puppy cuddles!! I like being part of a like-minded group of people sharing a message about an evidenced based, balanced training programme which sets the dog and owner up for success. I hope we save some dogs from being surrendered, giving them a second chance.

Charlie the Groodle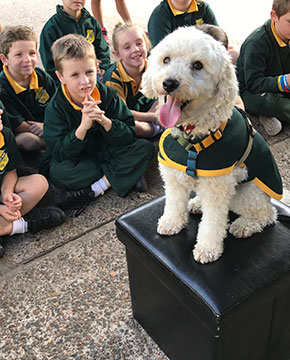 Background Experience: Enrolled in puppy school with Barkers in Balance in 2013 with my first owners. When they decided I was not the right fit for their family, I became part of the Barkers in Balance team, soon to become one of the faces of the business. I bring with me years of experience as the demo dog in Good Manners classes, Growly classes and private consultations with just one dog who may be nervous or reactive.
First contacted Barkers in Balance: 2013
Current dogs humans: Julie and Katrina, a couple of kind old birds who took me in back in 2013 when I looked like being homeless.
Favourite dog quote: "Do you ever look at your dog and think, How did I get so lucky?"
Why did you want to be part of the Barkers in Balance team?
I didn't have much choice, really but I couldn't be happier. My life now is full of exciting and varied adventures with lots of mental stimulation to keep my busy little "oodle" mind occupied.
Most fulfilling course outcome you've seen: Seeing the looks of joy on the faces of the kids at the school where I volunteer each week. From the minute I walk in they're calling out, "It's Charlie! Hi, Charlie!" When they play and train with me I try my very hardest to make them feel proud and happy with the activities they are doing with me. I also love seeing reactive dogs able to trust and lie down close to me and relax. I can be the start of them changing the way they look at the world of dogs. That's a good feeling!
Reflections on your participation in the Barkers in Balance team: I love being part of the team, letting everyone in the team pat me, throw the ball for me and give me heaps of love and adoration.

Lakota, the Chocolate Labrador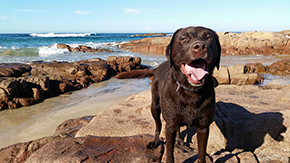 Background Experience: I began my life with Barkers in Balance when I was just a pup, 10 weeks of age. I came from a wonderful breeder called Brett who specialises in Chocolate Labradors. He has a passion for genetics and raised me in a beautiful rural setting in the Hunter Valley. In my puppyhood I attended many puppy classes with Barkers in Balance. I often help out in individual lessons with dogs who are uncertain on the lead around other dogs. I help the humans realise that even well-trained dogs like me can sometimes be uncertain on the lead but I'm very good at showing them my successful coping mechanisms. This helps the humans as well as their dogs to relax and feel optimistic.
First contacted Barkers in Balance: 2014
Current dogs humans: Julie and Katrina who'd always had a dream of owning a Chocolate Lab as beautiful as me!
Favourite dog quote: "Hounds follow those who feed them." ― Otto von Bismarck
Why did you want to be part of the Barkers in Balance team?
Well, my breeder Brett needed to approve first of the home I was going to. Once we got that formality out of the way, I jumped straight into puppy classes, learning and demonstrating to other puppies. The treats were amazing so the deal was sealed from there.
Most fulfilling course outcome you've seen: Seeing humans who've been anxious about taking their reactive dogs out on the lead begin to see hope. With the right sized little steps, their dogs can cope initially with seeing me and not panicking. As the dog becomes more confident, in many cases we are able to have that dog walk calmly past me, alongside me and be called back to their human after they have focused on me.
Reflections on your participation in the Barkers in Balance team: I love being part of the team, having a job to do and doing it pretty well. I'm also an ordinary dog and many humans in our classes take great comfort from the fact that sometimes I too may need a little reining in. That's how it goes with dogs.

Please visit our testimonial page to read how dog owners have benefited from attending Barkers in Balance courses.