THE ADVENTURES OF CHARLIE:
So I've been writing my blog for a few months now and doing quite well, I thought. Then I received an email from the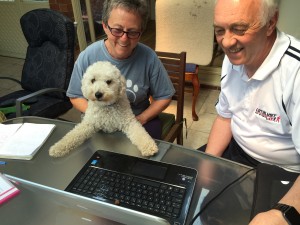 Hunter Region Business Enterprise Centre. They told me about a FREE service called One on One Digital Training for Business. You apply and they send out a great bloke called Julian Campbell to look at your online presence and to see how to make it better. He knows a lot about marketing text that works and has ideas on how to make Google love you more. He liked the stuff I'd been publishing when I showed it to him (see picture) but I must admit he was able to give me a couple of extra tips.
He worked with us for two hours today and left us with a bit of homework to do. When I've helped Julie work it all out I'll give him a call and he'll come back and give us a bit more feedback and a few more tips. We can't wait to zoom our way up the Google ranking ladder!
Julian says it's not too late to join in this FREE program so use the link below or contact Julian through his own website.